Foundation repair Boca Raton, FL
Dosdourian Enterprises, Inc. is a Foundation Repair & Underpinning Contractor serving Boca Raton, Florida. We specialize in helical piles/piers, micropiles, tieback anchors, chemical grouting, concrete lifting, slab jacking, & more.
Foundation repair Boca Raton
Dosdourian Enterprises, Inc. is a Boca Raton foundation repair & underpinning contractor. With over 40 years of experience and over 1000 completed projects, we are an established and trusted leader in the Boca Raton Geotechnical Industry. We look forward to working with you on your next project requiring foundation repair, micropiles, helical piles, retaining wall repair, soil stabilization or any of our other services.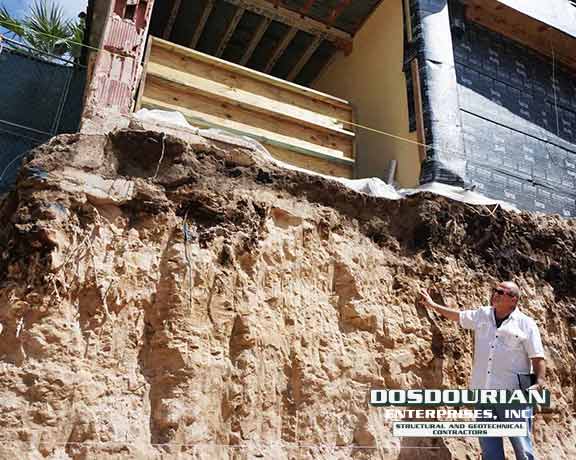 Boca Raton foundation repair services
Dosdourian Enterprises, Inc. utilizes a wide range of geotechnical construction techniques to repair foundations in Boca Raton, FL. Whether you are experiencing a settling foundation, cracked walls, sticking windows, jammed doors, or uneven concrete, we have the solution. If you do not see a fitting service in this list, please view the rest of our techniques or contact us.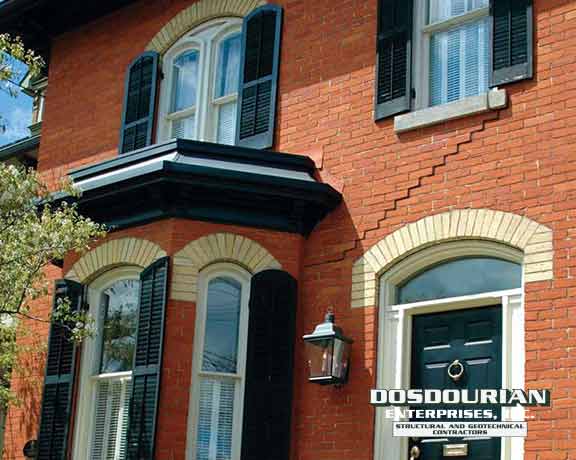 Foundation repair Boca Raton
If your Boca Raton, FL home or building is developing cracks in interior or exterior walls, sticking windows, jammed doors, bowing ceilings, or the visible sinking of the foundation, making foundation repairs right away is vital in preserving your property. Foundation settlement is caused by the gradual erosion of supporting soil underneath a foundation. Improper drainage, as well as water or sewage leaks under your building, can contribute to this problem. Underpinning by foundation piers and/or chemical grouting can repair and lift your foundation and prevent further foundation settlement.
foundation piers Boca Raton
Foundation Piers, also known as foundation piles, are installed in order to transfer the support of a home or building to deeper and more competent soil layers or bedrock during a process called foundation underpinning. Helical piles, also known as screw piers or helix piles, are a common choice in Boca Raton, FL for supporting lighter loads such as single-family homes. The foundation piles are advanced to the proper depth and then fastened to the foundation via brackets. If necessary, the foundation is then jacked into its proper position by means of a hydraulic jacking manifold system. Contact Dosdourian Enterprises, Inc. today to learn more about foundation underpinning with piers.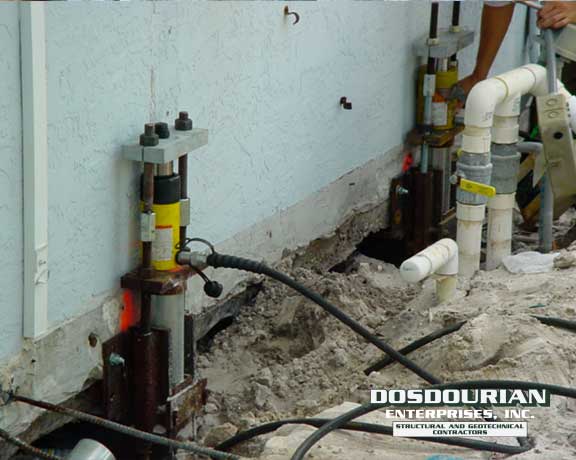 Industry Leading Performance
Our Reputation Is Rock Solid
"Dosdourian Enterprises repaired the foundation at our pool in Florida His Nick Name "The Dirt Fixer" Says it all as they were able to construct a bridge system to bring in equipment that Stabilized the foundation of our pool There Was no other company that seemed capable = They did a great job I would highly recommend them to anyone"
"I was on the board of a condominium in distress. The building was settling in such a way that had Dosdourian Enterprises, Inc. not stepped up and worked as quickly and efficiently as they did, it could have been catastrophic for us. We still have a building and a place to live thanks to their expertise and services. Crisis averted! I would heartily recommend this company. BUT for them, my condo could of easily looked like the building that collapsed in Surfside Miami. You can "take them and their services to the bank" for your commercial construction needs. Thanks again Dosdourian!"
"Sam and his Team are Amazing!!! Highly Recommend!!!"