Helical piles, also known as helical piers, screw piles, and helical anchors, are deep foundation elements used in new construction as well as underpinning existing foundations. As a Certified CHANCE® Helical Pile Installer, Dosdourian Enterprises welcomes the opportunity to bid on your next project requiring helical pile installation. Contact us today!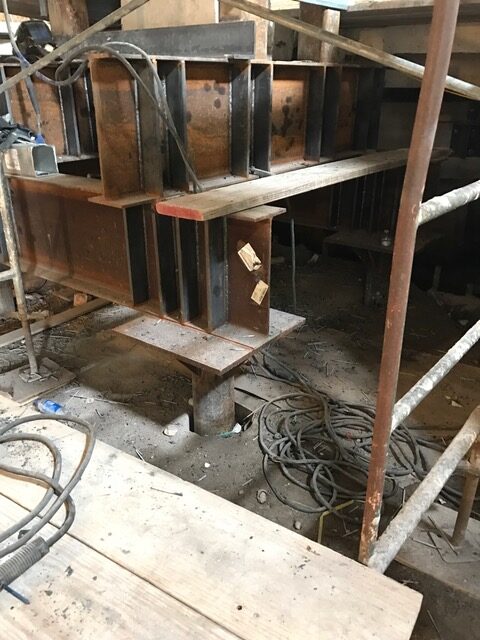 Helical piles are also known as helical piers, screw piles, and helical anchors. They are deep foundation elements used for new construction, to underpin existing foundations, lift settling structures, and provide structural support. Tension and compression capacities range from 40-80 tons.
COMPONENTS OF A HELICAL PILE
Helical piles are constructed with round or square steel shaft sections and flights of steel helical plates welded to the shaft. The sections are joined together by bolted couplings. Helical Piles or Piers may also be installed with the option of neat cement grout and a steel casing for additional axial and lateral load capacity.
HELICAL PILE INSTALLATION
Helical piles are installed in sections by means of a high torque hydraulic motor. As each section is screwed into the soil, the following section is connected to the previous by means of a bolted coupling, and drilling then resumes. After the helical pile has achieved design torque and is in place at the proper depth, the pile is terminated with a new construction bearing plate or an underpinning bracket and attached to the structure's foundation.
LET US DEMONSTRATE OUR EXPERTISE
Dosdourian Enterprises specializes in mini helical piles or helical micropiles, manufactured by CHANCE®
Helical piles and foundation repair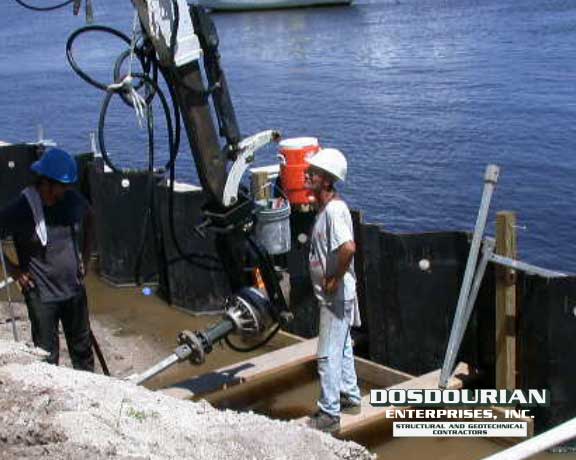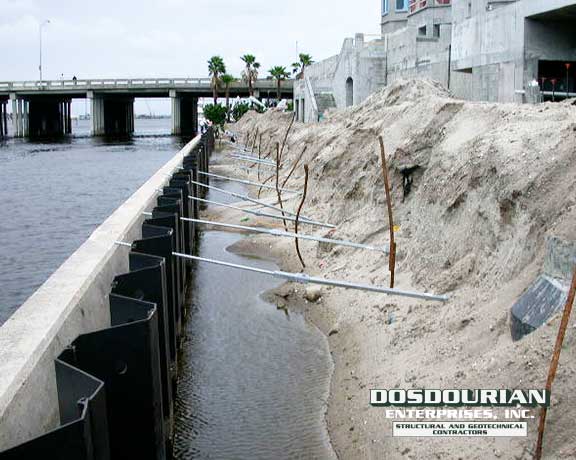 Helical piers are often used to repair any type of foundation that has settled, rotated, or cracked with the process of foundation underpinning.
FOUNDATION UNDERPINNING PROCESS
Helical piers are installed adjacent to the settled structure and are attached to the foundation with steel underpinning brackets. A manifold hydraulic jacking system uniformly lifts the foundation to its original position by pushing down on the piers and pressing up on the brackets which are attached to the structure.
Helical anchors and earth retention
Helical tieback anchors are often used to repair tilting retaining walls.
HELICAL TIEBACK ANCHOR INSTALLATION
Similar to the installation of a helical pile, helical tiebacks are screwed into the soil horizontally and are usually terminated with some type of waler beam. Helical tiebacks rely on tension strength and skin friction with the soil. Neat cement grout is often added to supplement the tension/uplift capacity of helical tieback anchors.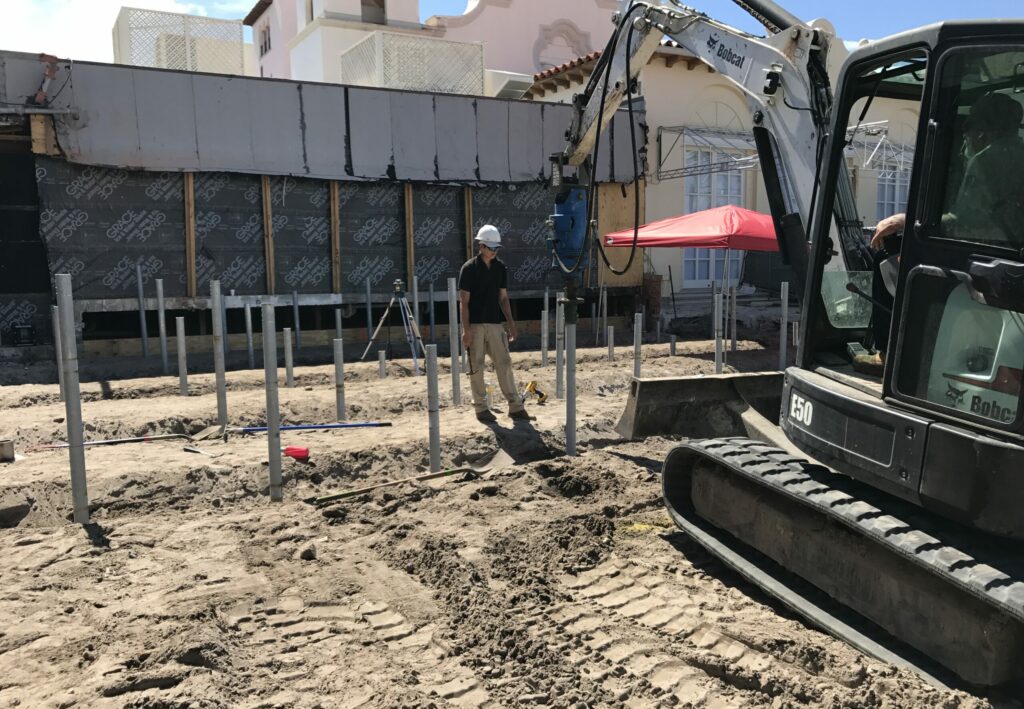 At Dosdourian Enterprises Inc. we specialize in chemical grouting, helical piles, Waterstop and Foundation Repair in South Florida.