Foundation repair contractor broward county, FL
Dosdourian Enterprises, Inc. is a Foundation Repair Contractor serving Broward County, Florida for over 40 years. We have extensive experience with foundation repair & underpinning, micropiles, helical piles, chemical grouting, slab jacking & more.
foundation repair broward county
Dosdourian Enterprises, Inc. serves Broward County with professional foundation repair & underpinning services. With over 40 years of experience an 1000+ completed projects, we have proven to be an industry leader in the Broward County Geotechnical Industry. We look forward to working with you on your next project requiring foundation repair, micropiles, helical piles, retaining wall repair, soil stabilization or any of our other services.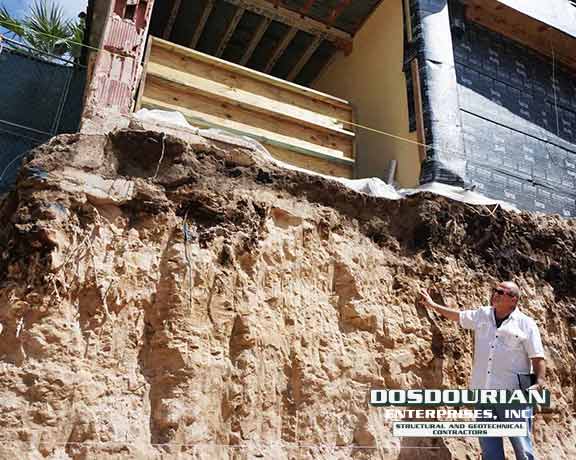 broward county foundation repair services
Dosdourian Enterprises, Inc. utilizes a wide array of geotechnical construction techniques to repair foundations in Broward County, FL. Whether you are experiencing a settling foundation, cracked walls, sticking windows, jammed doors, or uneven concrete, we can provide the needed solution. If you do not see a fitting solution in this list, please view the rest of our techniques or contact us.
Industry Leading Performance
Our Reputation Is Rock Solid
"Dosdourian Enterprises repaired the foundation at our pool in Florida His Nick Name "The Dirt Fixer" Says it all as they were able to construct a bridge system to bring in equipment that Stabilized the foundation of our pool There Was no other company that seemed capable = They did a great job I would highly recommend them to anyone"
"I was on the board of a condominium in distress. The building was settling in such a way that had Dosdourian Enterprises, Inc. not stepped up and worked as quickly and efficiently as they did, it could have been catastrophic for us. We still have a building and a place to live thanks to their expertise and services. Crisis averted! I would heartily recommend this company. BUT for them, my condo could of easily looked like the building that collapsed in Surfside Miami. You can "take them and their services to the bank" for your commercial construction needs. Thanks again Dosdourian!"
"Sam and his Team are Amazing!!! Highly Recommend!!!"